Ender's Game is a science fiction novel by American author Orson Scott Card. Set in Earth's future, the novel presents an imperiled humankind who have barely survived two conflicts with the Formics . These aliens show an ant-like group behavior, and are very protective of their leader, much like Earth ants protecting their queen. In preparation for an anticipated third invasion, an international fleet maintains a school to find and train future fleet commanders. The world's most talented children, including the novel's protagonist, Ender Wiggin, are taken at a very young age to a training center known as the Battle School. There, teachers train them in the arts of war through increasingly difficult games including ones undertaken in zero gravity in the Battle Room where Ender's tactical genius is revealed.
The book originated as the short story "Ender's Game", published in the August 1977 issue of Analog Science Fiction and Fact. Elaborating on characters and plot lines depicted in the novel, Card later wrote additional books to form the Ender's Game series. Card released an updated version of Ender's Game in 1991, changing some political facts to accurately reflect the times.
Reception to the book has generally been positive, though some critics have denounced Card's perceived justification of his characters' violent actions. It has also become suggested reading for many military organizations, including the United States Marine Corps. Ender's Game won the 1985 Nebula Award for best novel and the 1986 Hugo Award for best novel. Its sequels, Speaker for the Dead, Xenocide, Children of the Mind, and Ender in Exile, follow Ender's subsequent travels to many different worlds in the galaxy. In addition, the later novella A War of Gifts and novel Ender's Shadow take place during the same time period as the original. Ender's Game has been adapted into two comic series.
A film adaptation of the same name directed by Gavin Hood and starring Asa Butterfield as Ender is planned for release on November 1, 2013. Card is co-producing the film.
Creation and inspiration
The original novelette "Ender's Game" provides a small snapshot of Ender's experiences in Battle School and Command School; the full-length novel encompasses more of Ender's life before, during, and after the war, and also contains some chapters describing the political exploits of his older siblings back on Earth. In a commentary track for the 20th Anniversary audiobook edition of the novel, as well as in the 1991 Author's Definitive Edition, Card stated that Ender's Game was written specifically to establish the character of Ender for his role of the Speaker in Speaker for the Dead, the outline for which he had written before novelizing Ender's Game. In his 1991 introduction to the novel, Card discussed the influence of Isaac Asimov's Foundation series on the novelette and novel. Historian Bruce Catton's work on the American Civil War also influenced Card heavily. and the Hugo Award for best novel in 1986, considered the two most prestigious awards in science fiction. Ender's Game was also nominated for a Locus Award in 1986.
New York Times writer Gerald Jonas admits that the novel's plot summary reads like a "grade Z, made-for-television, science-fiction rip-off movie," but then says that Card develops the elements well despite this "unpromising material." Jonas further praises the development of the character Ender Wiggin: "Alternately likable and insufferable, he is a convincing little Napoleon in short pants."
The novel has received negative criticism for violence and for the way Card justifies Ender's violence. Elaine Radford's review, "Ender and Hitler: Sympathy for the Superman," criticizes the novel on several points. She posits that Ender Wiggin is an intentional reference by Card to Adolf Hitler and criticizes the violence in the novel, particularly at the hands of the protagonist. Card responded to Radford's criticisms in Fantasy Review, the same publication. Radford's criticisms are echoed in John Kessel's essay "Creating the Innocent Killer: Ender's Game, Intention, and Morality." Kessel reasons that Card justifies Ender's righteous rage and violence: "Ender gets to strike out at his enemies and still remain morally clean. Nothing is his fault."
The U.S. Marine Corps Professional Reading List makes the novel recommended reading at several lower ranks, and again at Officer Candidate/Midshipman.
The book was placed on the reading list by Captain John F. Schmitt, author of FMFM-1 for "provid useful allegories to explain why militaries do what they do in a particularly effective shorthand way."
In introducing the novel for use in leadership training, Marine Corps University's Lejeune program opines that it offers "lessons in training methodology, leadership, and ethics as well Ender's Game has been a stalwart item on the Marine Corps Reading List since its inception."
Adaptations
Film
In 2011, Summit Entertainment financed and is coordinating the film's development and will also serve as its distributor. Gavin Hood is directing. Filming began in New Orleans, Louisiana, on February 27, 2012.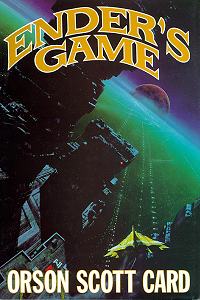 Video game
Ender's Game: Battle Room was a planned digitally distributed video game for all viable downloadable platforms. It was under development by Chair Entertainment, which also developed the Xbox Live Arcade games Undertow and Shadow Complex. Chair had sold the licensing of Empire to Card, which became a best-selling novel. Little was revealed about the game, save its setting in the Ender universe and that it would have focused on the Battle Room.
Comics
Marvel Comics and Orson Scott Card announced on April 19, 2008 that they would be publishing a limited series adaptation of Ender's Game as the first in a comic series that would adapt all of Card's Ender's Game novels. Card was quoted as saying that it is the first step in moving the story to a visual medium. The first five-issue series, titled Ender's Game: Battle School, was written by Christopher Yost, while the second five-issue series, Ender's Shadow: Battle School, was written by Mike Carey.
Conflict and criticism
In March 2012, a middle school teacher of 14 year olds in South Carolina was placed on administrative leave for reading excerpts of Ender's Game to his students, after a parent complained that the book was pornographic, primarily based on "curse words" in the text. The parent also asked the local police to file criminal charges, which the police have declined to do. The teacher had also read to the students from Devil's Paintbox by Victoria McKernan and Curtain: Poirot's Last Case by Agatha Christie.
Translations
Ender's Game has been translated into 28 languages: